Welcome to The Weekly Feed!
It's a one hour specialty show hosted by Kyle Meredith from the WFPK studios in Louisville, KY. We find the newest, best, and most discussed tracks making waves across the net and compile them all into a mixtape bent on keeping you up-to-date.
After a year that saw Kiwanuka win BBC's Sound of 2012 poll, the Brit quickly took both sides of the ocean by storm with the 70′s steeped sound of his debut, Home Again. We caught up with him in the woods of Willie Nelson's ranch (seriously) right before his set at the Heartbreaker Banquet to reflect on the past few months, his rise to fame, and the heroes that have inspired him.
This week's playlist is filled with good-time-tunage.  Take Spacehog, who up and surprised me with a reunion.  You won't find any nostalgia retracing in Oh, Dinosaur.  Instead, a solid romp with a rock 'n roll smile from ear to ear.  And if you're not already dancing, Said the Whale follows it perfectly with the simply put "I Love You". Elsewhere, we get the long awaited return of Daft Punk, Janelle Monae (with Erykah Badu!), and Pearl Jam's Stone Gossard.  Feed favorite Joseph Arthur drops the first taste from The Ballad of Boogie Christ and we round it out with a pair of tracks from The Great Gatsby featuring Lana Del Rey and Flornce & the Machine. So, see what I mean?
Big Harp even drop into the show!  I love their new LP Chain Letters, and hearing them talk about their kids walking in on them… making… harmony, is pretty awesome.
Jay-Z and Beyonce prove their First Couple status, but Erin Keane screams sexism with their placement on Time Magazines latest power list.
Speaking of screaming about sexism, Grimes has her own gripes about the world, and men are topping that list.
Less weighty, Little Steven is opening a School of Rock. I mean, he's not The Boss, but have you listened to The Underground Garage? It's an education every. single. episode.
Dawes joined Kyle Meredith & The Weekly Feed at SxSW to talk about their new record, Stories Don't End, road records vs. airplane records, wondering if that next song is going to come, their trip to Rwanda and keeping that activism spirit alive once they get back into their regular routine.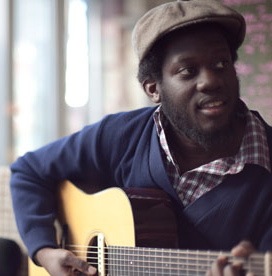 It sounds like the theme this week is big, summery fun.  Sure, we're still a couple months away, and there are still plenty or days with a chill in the air, but that doesn't mean that artist's can't start vying for our beach blanket bingo mixtape.  She & Him, Portugal The Man, and Jimmy Eat World have the goods, and we also sit down with Michael Kiwanuka, who's Home Again LP was a 2012 favorite.
Hey kids! It's time for another round of What-Were-They-Smoking???
This week, The Great Gatsby get's highlighted. Who of the soundtrack's players have actually read the book? We're guessing Fergie isn't in that camp.
Twitter had proclaimed that they will "change the way people will find music." Because, you know, there aren't enough option to do that. (Though let's be honest, none more vital than The Weekly Feed). Obsv.
Also, Stevie Nicks called Reese Witherspoon old. Pot-Kettle.
And the latest in the age old saga of Ozzy and Sharon. Dig in.
Live from SxSW, Thao & The Get Down Stay Down dropped into The Weekly Feed's day stage at Sony City to discuss We the Common (their newest LP), how she almost gave up music all together and what brought her back, working with Radiolab, being a social activist, and the importance of community. A special thanks to Sony Electronics for having us down!
The surprises kept coming.  First there was a new tune from The National and within minutes, Queens of The Stone Aged returned.  Liam Gallagher debuted new tunes from his post-Oasis band, Beady Eye.  Zeus turned a 90′s alt rock staple into a fun bounce for modern times. Mavis Staples, teaming up once again with Jeff Tweedy, proved her "legendary" title. Pete Yorn showed off his new digs.  And that's just the major highlights.
So, there's more than enough reason to dive in.  Plus, I talk to Dawes, which is always a good time.
I let the crazy's run the asylum, and luckily they brought the crazy.  For your enticement: Phish's Trey Anastasio scored a Broadway musical called Hands On A Hardbody, but it's been cancelled.  We call it a flop, right?  Get it?  Get it?
And how about Accidental Racist?  Yep, that's a song.  A country song.  So, run with that.
Also, is Kid Rock a socialist? Can't wait for Ted Nugent's reply.
Nanobots, album 16 for TMBG, finds the two John's going for some darker lyrical content and allowing themselves a Peter Pan / Oedipus concept (that's not really true). We discuss both, their cliched rock star life, those learning songs they're so famous for, and the idea of hidden politics within their music.