Welcome to The Weekly Feed!
It's a one hour specialty show hosted by Kyle Meredith from the WFPK studios in Louisville, KY. We find the newest, best, and most discussed tracks making waves across the net and compile them all into a mixtape bent on keeping you up-to-date.
The husband/wife duo that make up Big Harp dropped into our SxSW stage at Sony City in Austin to talk about Chain Letters, their sophomore disc, and the fact that it was recorded after their kids went to sleep. In fact, we talk a lot about the trials of being a family who also is a band.
Our post-Derby hangover isn't as bad as we expected, but that doesn't mean we need this week's playlist any less.  Afte a gray, muddy weekend, a pick-me-up courtesy of Wax Fang, Sigur Ros, Beady Eye, and Atoms For Peace is very welcome.
Plus, some great covers from Emeli Sande – with help from Bryan Ferry – re-imagining Beyonce's Crazy In Love and Daughter giving a trip hop reading of Daft Punk's Get Lucky prove to be just what the doctor ordered.
The one and only Billy Bragg also joins us.  His new album, Tooth & Nail, is one of his best ever.
Jared and Sean were away at a seminar that teaches people how to put on seminars, so we invited Ice Cream Headache co-host, Mark Murdoch to join Erin and I.
We start on a dour note, lamenting the loss of Chris Kelly, one half of clothes-on-backwards 90s duo, Kris Kross.  No worries, we find a way to make it tasteless.
Speaking of funerals, there was George Jones, who invited a bunch of MNS favorites to pay tribute.
Someone thought it was a great idea to give Tyler the Creator free rein to make a Mountain Dew commercial.  Surprise, it's been yanked!  No one is surprised about the outcome.
And did you hear about Neutral Milk Hotel?  They announced a reunion and the entire web had a simultaneous orgasm.
After a year that saw Kiwanuka win BBC's Sound of 2012 poll, the Brit quickly took both sides of the ocean by storm with the 70′s steeped sound of his debut, Home Again. We caught up with him in the woods of Willie Nelson's ranch (seriously) right before his set at the Heartbreaker Banquet to reflect on the past few months, his rise to fame, and the heroes that have inspired him.
This week's playlist is filled with good-time-tunage.  Take Spacehog, who up and surprised me with a reunion.  You won't find any nostalgia retracing in Oh, Dinosaur.  Instead, a solid romp with a rock 'n roll smile from ear to ear.  And if you're not already dancing, Said the Whale follows it perfectly with the simply put "I Love You". Elsewhere, we get the long awaited return of Daft Punk, Janelle Monae (with Erykah Badu!), and Pearl Jam's Stone Gossard.  Feed favorite Joseph Arthur drops the first taste from The Ballad of Boogie Christ and we round it out with a pair of tracks from The Great Gatsby featuring Lana Del Rey and Flornce & the Machine. So, see what I mean?
Big Harp even drop into the show!  I love their new LP Chain Letters, and hearing them talk about their kids walking in on them… making… harmony, is pretty awesome.
Jay-Z and Beyonce prove their First Couple status, but Erin Keane screams sexism with their placement on Time Magazines latest power list.
Speaking of screaming about sexism, Grimes has her own gripes about the world, and men are topping that list.
Less weighty, Little Steven is opening a School of Rock. I mean, he's not The Boss, but have you listened to The Underground Garage? It's an education every. single. episode.
Dawes joined Kyle Meredith & The Weekly Feed at SxSW to talk about their new record, Stories Don't End, road records vs. airplane records, wondering if that next song is going to come, their trip to Rwanda and keeping that activism spirit alive once they get back into their regular routine.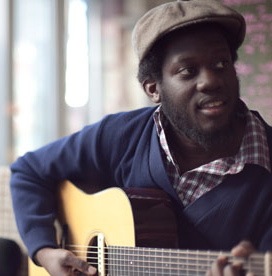 It sounds like the theme this week is big, summery fun.  Sure, we're still a couple months away, and there are still plenty or days with a chill in the air, but that doesn't mean that artist's can't start vying for our beach blanket bingo mixtape.  She & Him, Portugal The Man, and Jimmy Eat World have the goods, and we also sit down with Michael Kiwanuka, who's Home Again LP was a 2012 favorite.
Hey kids! It's time for another round of What-Were-They-Smoking???
This week, The Great Gatsby get's highlighted. Who of the soundtrack's players have actually read the book? We're guessing Fergie isn't in that camp.
Twitter had proclaimed that they will "change the way people will find music." Because, you know, there aren't enough option to do that. (Though let's be honest, none more vital than The Weekly Feed). Obsv.
Also, Stevie Nicks called Reese Witherspoon old. Pot-Kettle.
And the latest in the age old saga of Ozzy and Sharon. Dig in.
Live from SxSW, Thao & The Get Down Stay Down dropped into The Weekly Feed's day stage at Sony City to discuss We the Common (their newest LP), how she almost gave up music all together and what brought her back, working with Radiolab, being a social activist, and the importance of community. A special thanks to Sony Electronics for having us down!